Custom Frames
We use only real wood for our framing materials in addition to our metal frames. (There is a great deal of disguised particle board and plastic frames in the industry) It is all cut and joined here allowing precise fitting, corner matching and quality control.
Only at Exum's do you get corners matched when there is a match in the pattern. We also have a corner joining system not available anywhere else in Texas. We use only conservation grade materials for mats and backing, not to be confused with lesser "acid free" materials. The minimum technology for attachment of your item meets Library of Congress standards.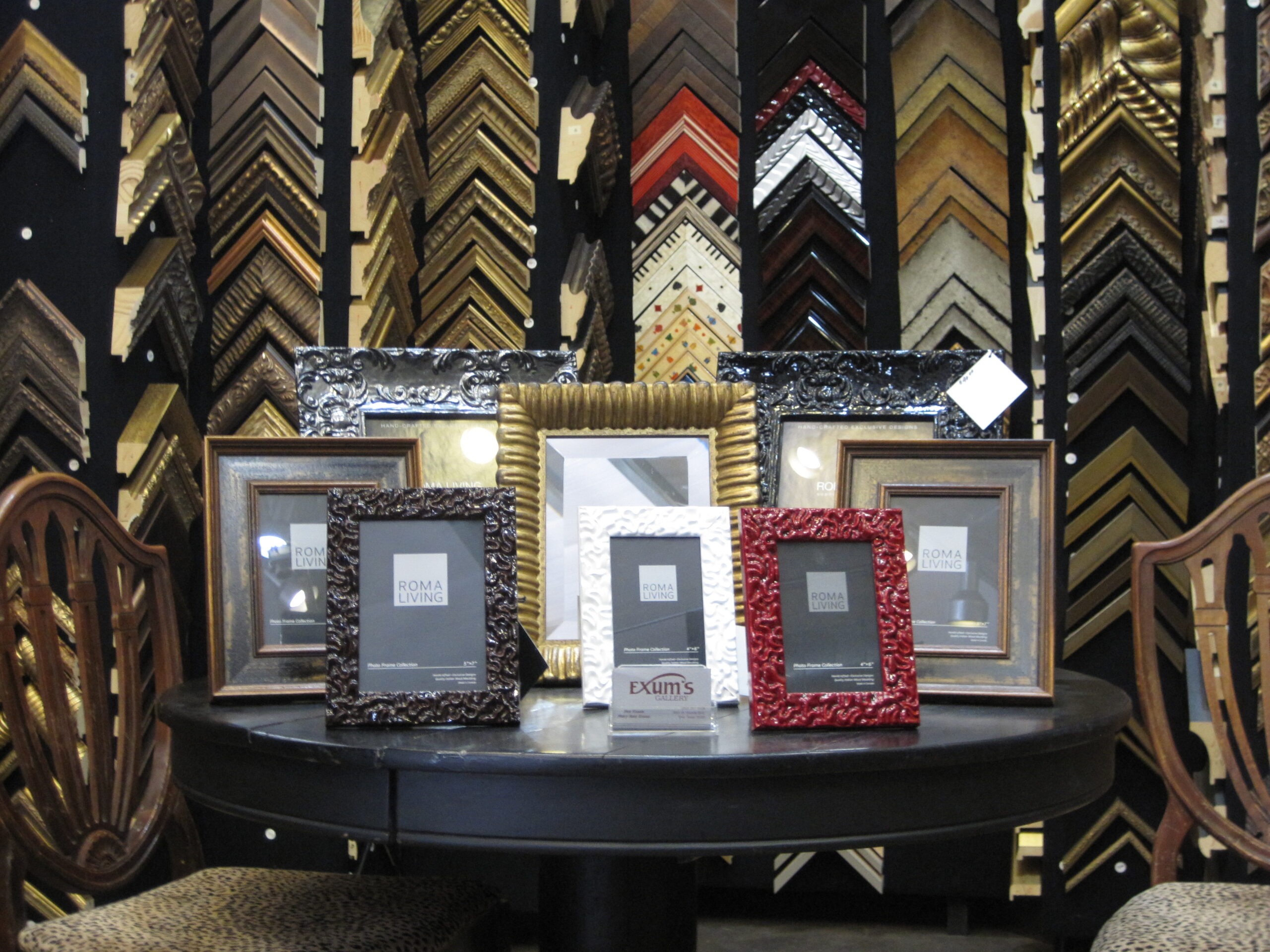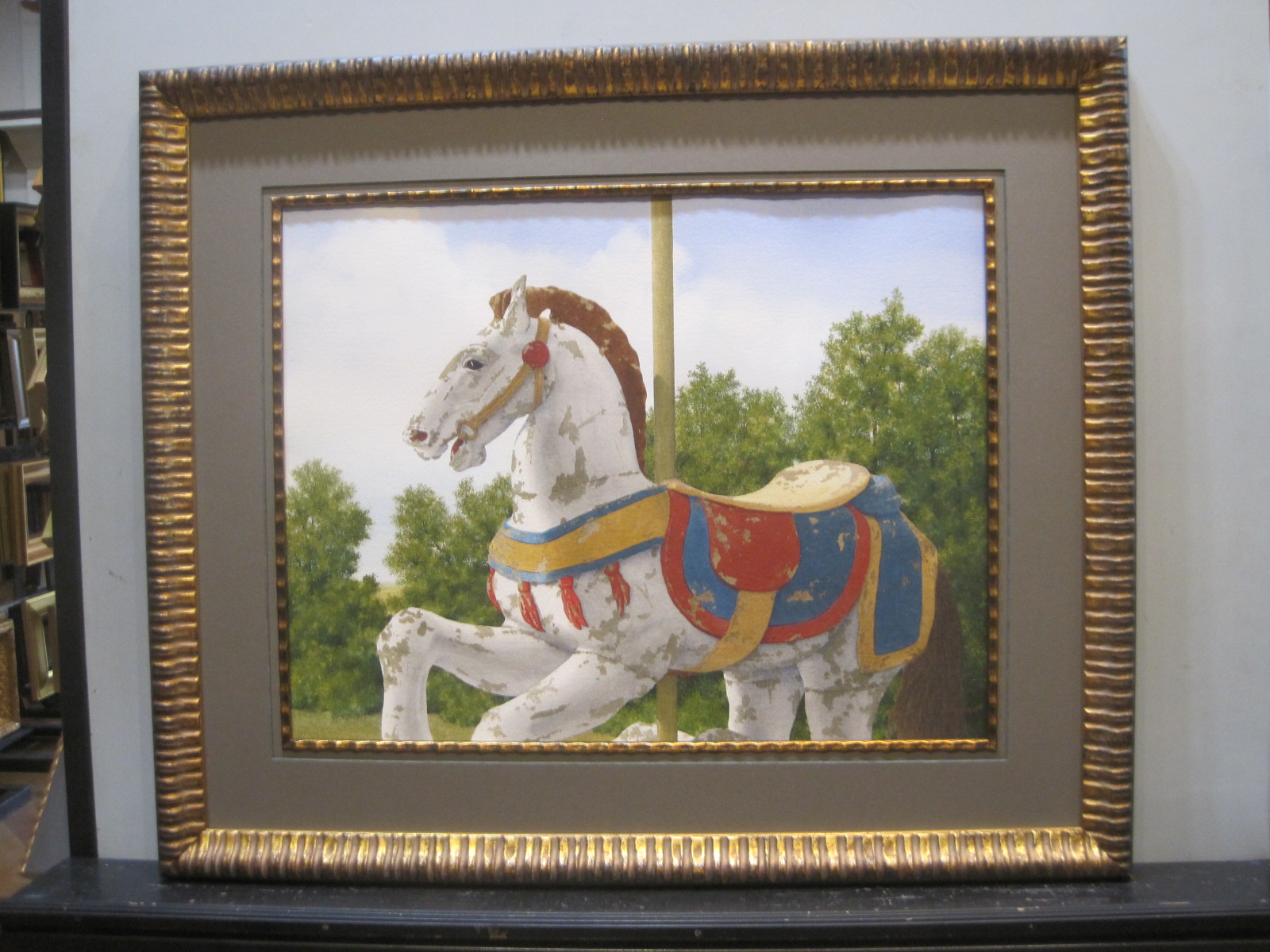 Ready-made Stock Frames
Many times a stock frame will do what you want and you will usually get more for your money with a standard size frame. We have several hundred available to you.
Standard sizes are 5×5 – 4×6 – 5×7 – 8×10 – 11×14 – 16×20 – 20×24 – 24×30 – 24×36 – 30×40.
Photo Frames
We keep a selection of easel back photo frames that are more sophisticated and high quality than you will find elsewhere. If you request it, we will change to UV glass to improve the life span of your photo. Also, a glossy photo is very likely to stick to glass and cannot be removed and we have another solution that solves this problem. We can also fabricate an easel back for any of our stock or custom frames.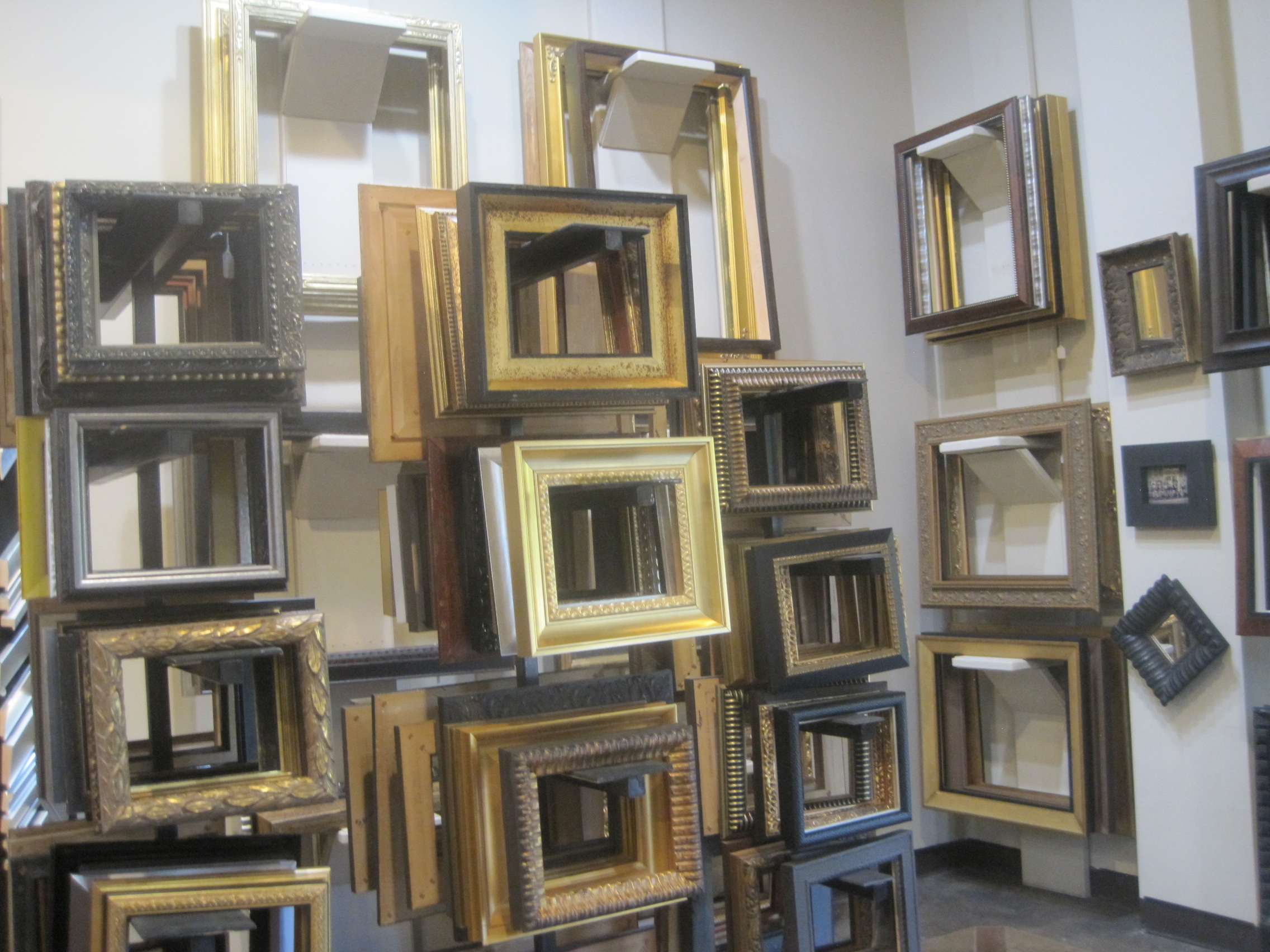 Glass Choices
Plain and refection control glass is still available, but seldom used. The UV filtering glass causes things to last much longer. If it means enough to you to have it custom framed, it deserves this protection. The reflection control glass does not distort the image as much as the non glare.

Conservation Clear and Reflection Control
Conservation clear looks just like plain but is protective and conservation reflection control has UV protection. This costs more than the clear, and causes a slight "hazing" of the image. We recommend clear unless there is a big glare problem.
Museum Glass
This is really nice glass. You can easily see the difference. It is also expensive. You should look at the samples before you decide.
Plexiglass
Many times this is the best choice. It is available in Clear, Nonglare, and UV filtering. (Museum grade. Not the same as Museum Glass)
Mounting
This is a rather technical area, but important for the longevity and value of what you frame. We continually see framing where a framer has used a method that has caused deterioration and/or degraded the value of the artwork. This seems especially true of art bought already framed. It would take a small book to explain all the different procedures for all the different media, however we are glad to discuss this in regard to your project. It would be smart to always ask "how will this be attached" before leaving something to be framed anywhere.
Paper can be "hinged" with one of three appropriate tapes, Mulberry paper hinges with wheat starch, edge or corner holders, dry mounted, spray mounted, wet mounted,most important is choosing the correct method for a particular application.
Stretch Canvas
We have been stretching artist 's canvas since 1965.
Exums offers a wide color palette and selection of high quality acid free mats to choose from, whether you decided on a single, double or triple matting style. You can be confident that Exum's will help you explore all your matting options and to make the perfect choice in matting for your individual piece of artwork.
Fillets
Also called "slips" or "mat liners". The ones we use are made of wood, that are finished just like a frame in gold, silver, wood, colors, etc.They are used like a double mat. Many times we use a double mat and a fillet. Because they are made of wood, they need to be shielded from the art that they touch. Our clients choose this treatment over 90% of the time. They can also be used to line the inside edge of a frame with no mat.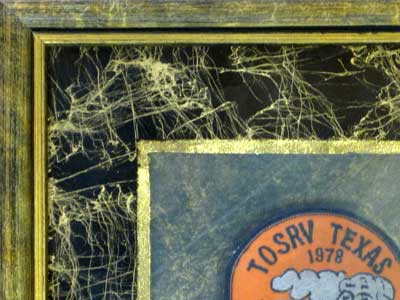 Glass Mats
This is not done too often, but it can be very attractive. Basically, the back of a piece of glass is painted or leafed, usually with more than one color. There is a lot of room for experimentation here. The down side is that if the glass is broken it is all over.
French Mats
This is a classic mat treatment. Any color of mat may be used, but some shade of white is the most common. The show begins with drawing lines with a ruling pen and ink. The lines can be different widths and colors. We can stop here, or the area between two lines can be colored with water color or pastel – or book binders paper.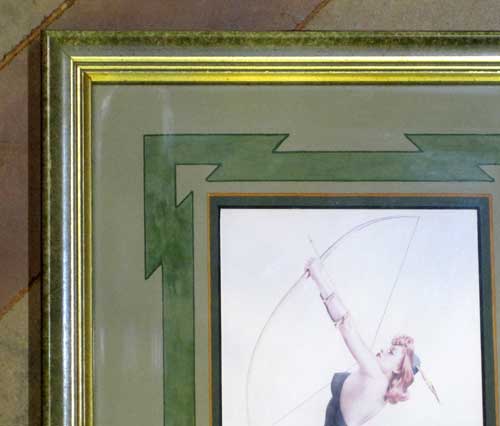 Picture Lights
Although often overlooked, these can add visual appeal to your framing.  These also add to the atmosphere and "feel" of a room.  We have a very good selection for size and finish in high quality lights.
We have found a battery powered picture light that works. It mounts on the ceiling instead of the picture frame. To learn more come visit us to see a demo, or go to methodlights.com