Degrees and Certificates
Degrees are usually done with mats and fillets. They can be done with just a frame. However, if it is not a relatively wide fame it can appear insignificant.  They should be treated as an original document and not dry mounted. UV glass is important, especially for the signatures. If you happen to have one done on sheep skin, it needs very special treatment.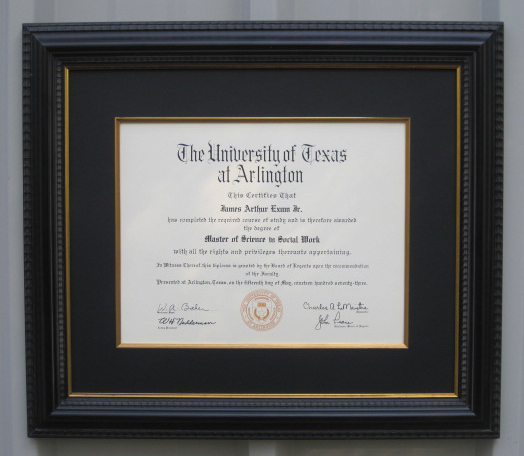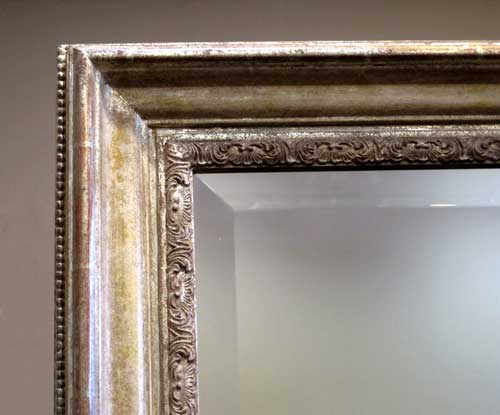 Mirror Framing
The first step is to determine the height and width you want. You may want to cut cardboard or paper to hold on the wall to help visualize the size. Get the size that you want including the frame. The next step is to come in and choose the frame sample you like. We will help with getting the width moulding you need. Then we will get the mirror and build your frame. Because the frame covers some of the mirror, we get mirrors with a wider bevel. This looks much better in a frame.
We can also get you mirrors for our standard frames.
Fabric Art
There are an infinite number of types of fabric brought to us for framing.  Many of these require a different preparation for framing. This is one place a shop operating since 1960 has an advantage. We are glad to answer your questions about how your piece will be prepared.
Some examples: All types of needlework, done by or for you, heirlooms, etc; silk (scarves are common as are oriental stitching) batiks; jerseys; t-shirts; flags and banners; and more. We occasionally get something we have never seen before.
Plex Display Boxes
These can be made to either hang on the wall or sit on a table or shelf. There are numerous was to do the base and/or background. This is a particularly good presentation for objects too deep for a conventional shadow box.
These may also be used for documents or art on paper. The background can be constructed as a mat or the object mounted and "floated". Some things that come to mind; guns, knives, guitars, artifacts and sports equipment.